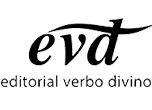 Editorial Verbo Divino

Editorial Verbo Divino is one of the Spanish publishing houses with the greatest global production and dissemination of biblical oriented products, primarily toward Latin America.

In addition, this editorial is concentrated in creating a backlist with over 800 titles sorted in different collections. These collections are increasing year after year with new works, mostly with biblical themes, but without neglecting other issues related to religion, sociology, ethics, etc.