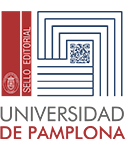 Sello Editorial de la Universidad de Pamplona

The Universidad de Pamplona, committed to the dissemination of knowledge and research, has a Publishing Label with the objective of promoting the publication of books, journals, and other academic and scientific materials from the university community.

The themes published by the Publishing Label are varied and cover all areas of knowledge. Among the most prominent are natural and exact sciences, social and human sciences, engineering, health sciences, agricultural sciences, and education.